Bluejackets Can Swim On Board USS Searcher, A Yard "Customer", When On Picket Patrol
"We don't doff our white hats to a ship of the fleet or even any commercial liner ---for we've got a swimming pool"
A "News" staff member, boarding the USS Searcher (YAGR-4) in the shipyard, was amazed to learn that one of the East Coast radar picket ships assigned to duties in the Contiguous Radar Coverage System of the United States can really back up her boast---for the ship that ran the U-Boat gauntlet on the North Atlantic convoy route until the end of World War II is the "only" Navy ship afloat that actually has a pool where bluejackets can polish up on their aquatic skills while Searcher is underway.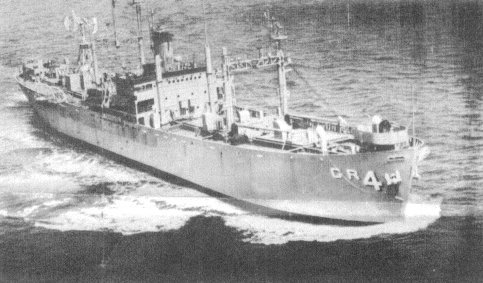 "We are proud of our swimming pool ," a member of the ship's crew told the "News" staff reporter, "especially because we made it ourselves on the deck, just aft of Hold No. One, which is covered over permanently. We welded side plates onto the combing behind the hold and now we have a pool. Of course, we can't dive into it because it's only four feet deep, but it sure beats swimming in the ocean and worrying all the time about sharks, manatees and stingarees."
Circulating Sea Water
The pool, which is filled with circulating sea water, is just one of several outstanding recreation facilities which the "News" reporter saw on his tour of the ship. Searcher's many holds have been made into a gym, half a basketball court, hobby shop, and movie theater.
"Our living facilities are first class", the bluejacket enthused. "Take a look at that mess deck. Pretty big isn't it? It can hold the entire crew at one sitting. When we go through the berthing compartments, you'll see that every man has an individual bunk light, and there's plenty of space between the bunks, which sure eliminates that cramped feeling!"
Reason for these unusual features, the reporter was told, is the ship's mission on the picket line. Picket patrols are long and monotonous, and Searcher spends over two-thirds of her time at sea. Under those conditions, no effort is spared to keep the crew's moral way up, and therefore make them better equipped to perform their vital task.
Not A Stranger
"Although Searcher has only been 'on the line' since late in 1955," she was originally the SS James A. Wheeler, and

was launched in January 1945. Until the end of the war, she served on the North Atlantic convoy route, running the gauntlet of German U-Boats many times, but without suffering damage or loss of life."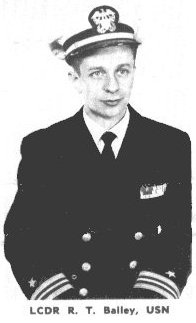 In 1947, he explained, Searcher served one year as a trans-Atlantic cargo carrier for the Grace Lines. Her conversion to a picket ship began in 1954, and she was commissioned April 2, 1955. Now she is one of eight East Coast radar picket ships assigned to duties in the Contiguous Radar Coverage System of the United States. When on picket patrol several hundred miles off the East Coast, operational control is exercised by the 26th North American Air Defense Region (SAGE).
Bronze Star Holder
In the Captain's cabin, the reporter met and talked with Searcher's Commanding Officer, LCDR Richard T. Bailey, USN, who holds the Bronze Star for his work as Commanding Officer of USS Mergansor (AMS-26) during the Korean War and truce patrol. Since then he has been on the staff of ComInFlot One, completed General Line School at Monterey, and served as Mine Warfare Counter Measures Officer for Commander Hawaiian Sea Frontier.
"The mission of USS Searcher", Commander Bailey explained, "is to detect all aircraft flying across the Atlantic Ocean and inbound to the United States. When detected, these aircraft are reported via an elaborate communications network to a SAGE sector headquarters, where the data are processed into a computer.
Rough Weather Operations
"The data are then displayed and the reported aircraft evaluated as friendly or unknown. Searcher and her sister ships operate throughout the worst North Atlantic weather, thus ensuring that this continent's aircraft detection range is extended many hundreds of miles to sea."
This increased warning provides an extra margin vitally needed to maximize the country's defenses and to launch a retaliatory blow in the event of enemy attack.
Offensive and Defensive Roles
"Searcher is also fully capable," her Commanding Officer concluded, "of controlling Air Force Fighters in strikes against enemy planes hours before they could reach the coast line. With this ability, she can fill both an offensive and defensive role in the defense of our country."
Before taking command of Searcher on March 11th of this year, Commander Bailey was Executive Officer of another familiar shipyard "customer", USS McGowan (DD-678). He is a graduate of the US Naval Academy, Class of 1949, and now lives in North Kingstown, RI with his wife, son and two daughters.